Contacts
«Lenta» Ltd, Jelgavas iela 68, Riga, Lv 1004, Latvia
Phone.: +371 67614431, +371 67611216, fax 67860205
e-mail lenta@lenta12.lv
www.lenta12.lv
On the 06 th of July 2016 "Lenta'' Ltd. has signed an agreement Nr. SKV-L-2016/226
with Investment and Development Agency of Latvia (LIAA) for the project
"International competitiveness promotion", which is co-financed by the
European Regional Development Fund.

most popular production
Woven technical ribbon
Lenta Ltd. produces woven technical ribbons for daily use and manufacuring needs. We are glad to take individual orders...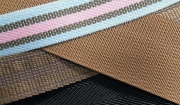 Cotton lace
The lace that was most in demand last year stands out with the softness of it`s color. There are discounts available for...