Services
We produce a wide range of ribbons, cords and lace for local and external markets and also manufacture according to individual orders:
lace

labels for clothing (jacquard ribbons)

decorative ribbons

technical ribbons

elastic ribbons

a wide range of cords

national belts/ribbons (limited)

Our designers guarantees fast and qualitative treatment and development of your chosen sample, according to your needs and wishes and start production.
most popular production
Cotton lace
The lace that was most in demand last year stands out with the softness of it`s color. There are discounts available for...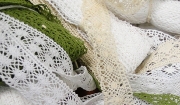 Woven technical ribbon
Lenta Ltd. produces woven technical ribbons for daily use and manufacuring needs. We are glad to take individual orders...